LITERATURA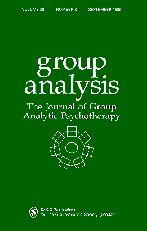 group analysis
The Journal of Group-Analytic Psychotherapy Volume 25
Number 1 March 1992
Special Section: Group Psychotherapy with Borderline Personalities
Guest Editor:
Raymond Battegay
Projective Identification as a Regulator in the Group Process: The Three Levels of Interaction in Analytic Groups
Raymond Battegay
7
Effects of Projective Identification on Therapists and Groupmates
Ramon Ganzarain
15
Group Psychotherapy and Disorders of the Self
Irene H. Harwood
19
Borderline Distortions of Mirroring in the Group
Louis Zinkin
27
The Importance of Different Reference Groups in the Therapy of Borderline Patients
Udo Rauchfleisch
33
Experiences with 'Planned' Dynamic Group Psychotherapy of Patients with Anorexia Nervosa
Gisela Ehle
43
Glimpses of Projective Identification in Inpatient Groups and in Life
Lise Rafaelsen
55
Trends in Group Psychotherapy with Borderline Patients
Raymond Battegay, Irene Hubermann, Corinne Schlösserand Christina Visoiu
61
Articles
'Diversity' as a Group-specific Therapeutic Factor in Group-analytic Psychotherapy
Bente Thygesen
75
Transcultural Group Analysis I. Different Views of Maastricht and Heidelberg
Dennis Brown
87
Transcultural Group Analysis II. Use and Abuse of Cultural Differences: Analysis and Ethics
Dennis Brown
97
The Concept of Matrix: A Metaphysical Enquiry
Andrew Powell
107
A Transcendental Matrix? Discussion on Paper by Andrew Powell
Nicola Diamond
111
Commentary
'The Patient who "Refuses" to Change': The Author Responds
Paul P. Shultz
15
The Black and White Group: A Group-analytic Contribution to Race Relations?
Piers Lyndon
117
Obituary
Dr. Hans Syz
Elizabeth Foulkes
121
Letter to the Editor
A 'Strange' Review
Sigmund Karterud
122
Book Reviews
Self Psychology and the Humanities, Reflections on a New Psychoanalytic Approach. By H. Kohut.Edited by C.B. Strozier and The Search for the Self. Selected Writings of Heinz Kohut: 1978-1981. Vols 3 and 4. Edited by P.H. Ornstein
Review Article by
Jason Maratos
123
Frontiers in Self Psychology. Progress in Self Psychology Vol. 3. Edited by Arnold Goldberg
Reviewed by
Elinor Field
125
Understanding Women in Distress. By Pamela Ashurst and Zaida Hall
Reviewed by
Julie Roberts
127
The Regal Phantasm. Shakespeare and the Politics of Spectacle. By Christopher Pye
Reviewed by
Murray Cox
127
Books Received
114
International Calendar
54
Number 2 June 1992
15th S.H. Foulkes Annual Lecture
Transposing Learnings from Group Psychotherapy to Work Groups
Dorothy Stock Whitaker
131
Articles
'Elaboration of the Negative' and Other Concepts: A Tribute to Eduardo Cortesăo
Malcolm Pines
151
Discussion on Paper by Malcolm Pines
Rita Leal
167
The Aesthetics of Group Analysis
Christopher Rance
171
Omnipotence versus Therapeutic Response an Group-analytic Therapy
John Woods
183
Control and Leadership in Group Psychotherapy
Alan Home
195
Group Dreams Revisited
Sigmund W. Karterud
207
Discussion on Paper by Sigmund W. Karterud
David Winter
222
Diversity in the Practice of Inpatient Group Psychotherapy in North America
Howard D. Kibel
225
Discussion on Paper by Howard D. Kibel I
R.D. Hinshelwood
239
Discussion on Paper by Howard D. Kibel II
John Walshe
242
Discussion on Paper by Howard D. Kibel in
Keith R. Hyde
244
Commentary
The Wider Matrix: Story of a Danish Group-analytic Journal
Søren Aagaard
247
Book Reviews
The Practice of Group Analysis. Edited by J. Roberts and M. Pines
Reviewed by
Jonathan Pedder
249
Recent Publications in the Field of Italian Group Analysis
Reviewed by
Girolano Lo Verso
250
Treating the Self. Elements of Clinical Self Psychology. By E.S. Wolf
Reviewed by
Mike Hobbs
251
A Handbook of Common Groupwork Problems. By T. Douglas
Reviewed by
Cynthia Rogers
253
Dream, Phantasy and Art. By H. Segal. Edited by E. Bott Spillius
Reviewed by
A.P. Ormay
254
Healing Hurt Minds. The Peper Harrow Experience. By M. Rose
Reviewed by
Raymond Blake
255
Books Received
246
International Calendar
182
Number 3 September 1992
Twenty-fifth Year of Publication
Fellow Editors Applaud I: Foulkes Would Have Rejoiced
Saul Scheidlinger
259
Fellow Editors Applaud II: The Need for Dialogue Revisited
Robert R. Dies
261
Fellow Editors Applaud III: How Unlike Kierkegaard's Journal!
Søren Aagaard
267
Group Analysis: A Brief History of this Journal, 1967-92
Elizabeth Foulkes
269
Twenty-five Years of the Group-Analytic Society Network
T.E Lear
277
The Good Old Days: Extracts from Early Issues
Sabina J. Strich
295
What Sort of a Journal Are We? What Sort of a Journal Should We Be? Interviews with the Editorial Committee 'Group'
A.P. (Tom) Ormay
307
Martin Grotjahn: A Selection of Cartoons
Malcolm Pines
313
Martin Grotjahn: A Personal Tribute
Malcolm Pines
317
Special Section on Research I: Research and the Group. Psychotherapist
Guest Editors:
David Kennard and David Winter
319
Evaluation of Therapeutic Factors in Group Psychotherapy by Therapists in Training
Panos Vostanis and Derek O'Sullivan
325
The Long-term Effects of Group Psychotherapy: A Thirteen-year Follow-up Study
Bo Sigrell
333
Reflections on Group-Analytic Research
Sigmund W. Karterud
353
A Programme of Group Relations Research: Emphasis on Inquiry and the Trial of Techniques
Robert M.Lipgar
365
Letters to the Editor
The Institute of Group Analysis Rasztów
Jerzy S. Pawlik
377
Training: Block or Continuous?
Gregory van der Kleij
378
Book Reviews
Wit and Wisdom in Dynamic Psychotherapy. Edited by Gregory P. Bauer
Reviewed by
David Winter
379
Psychiatric Interviewing. The Art, of Understanding. By C. Shea
Reviewed by
Julie Roberts
380
From War Babies to Grandmothers. Forty-eight Years in Psychoanalysis. By Ilse Hellman
Reviewed by
Eleanor Wigglesworth
381
Sandor Ferenczi: Reconsidering Active Intervention. By Martin Stanton
Reviewed by
Dennis Brown
381
Masochism- The Treatment of Self-inflicted Suffering. By J.D.Montgomery and A.C. Greif
Reviewed by
Estela Welldon
382
Dialogism, Bakhtin and his World. By M. Holquist.
Reviewed by
Jane Campbell
383
Psychoanalysis. A Theory in Crisis. By M. Edelson
Reviewed by
Digby Tantam
384
International Calendar
376
Number 4 December 1992
Group-Analytic Society (London) Spring Weekend 15-16 May 1992
Foulkes Lecture and Study Day: Chairman's Introductory Remarks (abridged version)
Bryan Boswood
387
16th S.H. Foulkes Annual Lecture
Envy Preemption in Small and Large Groups
Lionel Kreeger
391
Response to Lecture by Lionel Kreeger
Meg Sharpe
408
Study Day Paper: A Self Psychology Perspective of Envy in Group Psychotherapy
Walter N. Stone
413
Response to Paper by Walter N: Stone
Jason Maratos
428
Special Section on Research II
Making Research a Part of Group Therapeutic Practice
Dorothy Stock Whitaker
433
Repertory Grid Technique as a Group Psychotherapy Research Instrument
David A. Winter
449
Articles
Group Therapy for Women Survivors of Childhood Sexual Abuse
Zaida M. Hall
463
Group Work with Sexually Abused Adolescent Girls
Kedar Nath Dwivedi, Elizabeth Brayne and Stuart Lovett
477
Narcissistic and Borderline Personality Disorders in Cases of Incest
Ramon Ganzarain
491
Commentary
Twenty-five Years of the GAS Network: Further Reminiscences
Vivienne Cohen
495
Obituary
Professor Romano Fiumara
Malcolm Pines
498
Book Reviews
Psychoanalytic Group Theory and Therapy. Essays in Honour of Saul Scheidlinger PhD. Edited by S. Tuttman
Review Article by
George Ikkos
499
Group Therapy with Alcoholics. Outpatient and Inpatient Approaches. By B. Levine and V. Gallogly
Reviewed by
Bob Fieldsend
501
Dramatherapy with Families, Groups and Individuals. Waiting in the. Wings. By Sue Jennings
Reviewed by
R.F. Hobson
502
On Art and Therapy. An Exploration. By M. Thompson
Reviewed by
Gerry McNeilly
503
A Skin for Thought. Interviews with Gilbert Tarrab. By D. Anzieu
Reviewed by
Robin Cooper
504
International Calendar
432
Books Received
490
Volume Index
506